Will they or won't they?
Will Allen & Overy and Shearman & Sterling LLP finally make it up the aisle in three weeks' time?
Almost certainly.
At 75% for each partnership, the Goldilocks benchmark looks set correctly to achieve both legitimacy and buy-in. But not so high so that it could fail.
But not all votes are created equal. At A&O, it's more likely (given that it's originally a UK firm) to be a vote based on weighted votes – often one for salaried and two for equity. Whereas at Shearman (given that it's a US firm), it will probably be on the basis of financial contribution. I'd love to know how the votes work exactly and who has done the vote counting à la House of Cards.
(As an aside, at Dewey, the board was able to carry any absolute majority vote it wanted as it had all the main originating and matter partners on there so could outvote the rest of the partnership based on billings. Look how that turned out.)
The opportunity
Here's the opportunity that Wim DeJonghe spotted when Hogan Lovells baulked at the Shearman deal: it's potentially transformative and moves A&O from merely being a Magic Circle firm to being a transatlantic powerhouse, maybe even a global elite firm. I've written it before, but it's a genuine shift – a rare opportunity to really break into the US properly. And it is going to mess with the heads of the other Magic Circle leaders who need a riposte.
But the news this week that first, the vote was yet another ten days away and that, second, that it would last two weeks seems at odds with the pace of decision-making in the modern world. Either the respective leadership teams have now got the votes, or they haven't.
Shearman is listing and now simply has to vote for the deal now. It's lost 10% of its lawyers in the last six months and 8% of all its people during that time.
A&O might have been wiser to have a quick decision on the merger given the number of people that Shearman is shipping. Two weeks is a long time in the American labor market.
But the challenges don't end there. The merger is just day one of the new firm, and its success will be determined by its post-merger integration. Look at other major UK/US tie-ups, and you'll often see what are essentially co-branded, separate entities. The problem with that is that they behave accordingly and don't ever reap the benefits of full integration.
Of the headcount that has left Shearman recently, it would be tempting to look at the lawyers. But in my experience, a lot of post-merger integration work should happen in IT, Risk, Knowledge, Marketing, HR, Ops, Finance, the post room, and so on.
And it's here that I'm beginning to get more nervous about the deal. Shearman has lost the following people over the past six months (as well as over 180 other lawyers and professionals):
I could go on.
The C-suite must be pretty empty right now. All politicians and no mandarins. The above group of eleven individuals had over 100 years' collective experience at Shearman which has now walked out the door.
I can't help but think that they had invaluable information to impart when it came to post-merger integration. And yet, somehow, in a rush to – Make its finances looks good? Make itself look more attractive as a merger target? Streamline? – it has lost all of this irreplaceable intellectual capital at just the wrong time.
Where did we put those golden handcuffs?
Shearman will now vote for the deal because it has to or it will wither and die. You can't ship the above talent and lose 10% of all fee earners in six months and not be in deep jeopardy by remaining solo.
A&O will vote for the deal because it sees a once-in-a-lifetime chance to re-join the Premier League.
But the next two years are going to be choppy as hell as only A&O business professionals are in place to bring the thing together.
Sorry Shearman – you just got acquired.
Waterfall or agile?
My favourite story of the week is written – as it is most weeks – by Jessica Boak, who talks of the deliberations taking place behind Hogan Lovells' iconic water feature.
Take a read of the piece (£) here
or a post about it here by The Lawyer magazine editor Catrin Griffiths
Rumours that the A&O/Shearman vote was extended to two weeks from 48 hours after they realised they had to decide what was happening with their water features remain unconfirmed.
The aftermath of the Great Fire of London
Talking of great writing, Mahnaz Malik – one of the Bar's leading lights on LinkedIn in our upcoming report – wrote this incredible piece about Fire Courts, which is well worth a read for those who love London, law and history: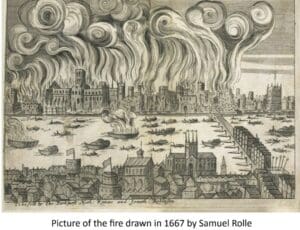 CourtGPT
Lord Justice Birss (a Court of Appeal judge) has praised ChatGPT as 'jolly useful' after asking it for legal summary of one paragraph of his recent judgment.
IP specialist Birss, LJ asked the AI tool to summarise an area of law and used it as part of his judgment, taking full responsibility that it reflected his own position.
It's not the only example of courts using ChatGPT highlighted in the Guardian article, and comes on the back of Master of the Rolls Sir Geoffrey Vos's prognostications on the dangers posed and opportunities offered by the technology in the courts.
"We may even hopefully turn it to the advantage of access to justice and effective and economical legal advice and dispute resolution," he said at a Law and Technology conference in June.
If you don't want to be left behind on AI and the law, I'd suggest that both Heather Murray and Tanja Podinic are two key people to follow on this platform.
You've been framed
Speaking of IP, this story about a Danish artist who submitted empty picture frames as his works of art is well worth a read this week.
The artist – Jens Haaning was commissioned in 2021 by the Kunsten Museum of Modern Art in Aalborg to recreate two pieces that used banknotes to represent average incomes. One in Danish Krone and one in Euros.
Submitting the empty frames, he said on a radio show in June:
"The work is that I have taken their money. It's not theft. It is breach of contract, and breach of contract is part of the work."
The courts disagreed and have compelled the artist to return his loan (which had been intended to be used in the creation of the artwork), although he could keep his fee.
For further information read
here
In other news
Law.com International – the title formerly known as Legal Week – dropped its top 50 UK firms table, which you can read here – https://www.law.com/international-edition/2023/09/15/uk-top-50-ranked-by-pep-biggest-drop-since-the-financial-crisis/
Clifford Chance sat down with Law.com to explain its decision to go open plan in the new UK headquarters https://www.law.com/international-edition/2023/09/18/clifford-chance-to-go-fully-open-plan-as-firm-avoids-4-day-in-office-trend/
Linklaters has laid off 30 lawyers in China after a "prolonged downturn" https://www.law.com/international-edition/2023/09/19/linklaters-lays-off-greater-china-lawyers-cites-prolonged-downturn/
Youngs Law – formerly Swain & Co Solicitors – has collapsed and is now in administration. https://www.lawgazette.co.uk/news/national-firm-collapses/5117270.article